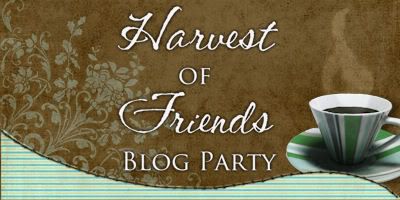 Lynnette
is hosting a blog party for her readers. She wants to get to know us a bit better so she came up with these questions for us to answer. You can join in too and add your post to her list of links!
1. What is your favorite thing to snack on while you're blogging?
I usually just have a cup of coffee with me since i'm usually at the computer in the morning.
2. What is one thing you wouldn't want to live without?
Beside God and Family? I don't think there's anything i couldn't do without.
3. Beach, Mountains or Farm? Where would you live if you had a choice?
If i were on my own i would be found at the beach. If it were just me and my husband i think we would live in the mountains. And if it were me, my husband and a bunch of kids, i think a farm would be perfect.
4. What's your least favorite chore/household duty?
Taking out the trash
5. Who do people say you remind them of?
My sister. Growing up people always asked me if we were twins.
And now that i have my glasses my dad calls me Sarah Palin.
6. Prefer parties and socializing or staying at home with the fam?
Definitely staying home. We also love having friends over for dinner or games.
7. What's your all time favorite movie?
I don't really have one.
But we have a family tradition where we watch It's a Wonderful Life every Christmas. Elijah and I love watching The Polar Express together.
8. Do you sleep in your make up or remove it like a good girl every night?
I have to remove it.
9. Do you have a hidden talent or a deep desire to learn something that you've never had a chance to learn? What is it?
Recently I've had this desire to run. I want to get more exercise and i figure running is free, you don't have to go to a gym, you can do it anywhere and it would keep me warm outside in this cold country!
I also want to play the violin and learn how to and paint clouds.
10. What's one strange thing you're really good at?
Can't think of anything.
11. What first attracted you to your spouse?
His thoughtfulness towards others, his giving heart and the way he looks out for other people.
12. What is something you love to smell?
I love the smell of fresh cut grass! It reminds me of carefree summer days.
13. Tell something about you that you know irritates people.
Taking to many pictures of them?
14. When you have extra money (HA!) what's the first thing you think to do with it?
We have so many friends and family on the mission field i would love to support them all so they wouldn't have to worry about money ever again!
Or else i'd go buy clothes and I love buying things for the house. And it's so fun to buy for the kids now.
15. Are you a silent laugher or a loud laugher? What makes you laugh the hardest?
If i'm with close friends or family i can be loud.
16. Where is your favorite place to shop?
Hmmm
17. What's one thing you'd do more often if you had more time?
Travel and take pictures. Or sleep! and read!
18. Are you a big spender or frugal?
I have a hard time spending money.
19. Who is your favorite character of all time (from a movie or book)?
(Can't be real)

Oh this is hard. I was going to say
Laura
Ingalls
Wilder
but she real isn't she.
20. Would you want to be famous?

no way
!
Thanks for visiting!